Featured Programmes
Sistah Sistah Foundation is an Organization run by women who have a collective need to help women and protect young girls. Our foundation is based on a sisterhood that we created to feel safe, heard, seen and sane. 
For the past few years , The Sistah Sistah Foundation has been a part of an incredible ecosystem of feminist movements working to achieve gender justice and women's human rights in Zambia. The Foundation is run by a small group of feminists all under the age of 30 who envision a world where feminist realities flourish and resources and power are shared in ways that enable everyone, and future generations, to thrive and realize their full potential with dignity, love and respect, and where Earth nurtures life in all its diversity.
Our work largely focuses on Sexual, Gender Based Violence and Sexual Reproductive Health Rights. We run a survivor's support programme for victims of Sexual violence in Zambia, where we help them report their cases, connect them them with legal and medical help. We help victims of GBV, find safe homes, report their cases and help them get jobs.
Our End Period Poverty Campaign provides free pads to underprivileged girls, sex workers and disabled women. We also host workshops and rallies on the dangers of rape culture and we create educational content on SRHR.
FEMINISM
EQUALITY
INTERSECTIONALITY
INCLUSION.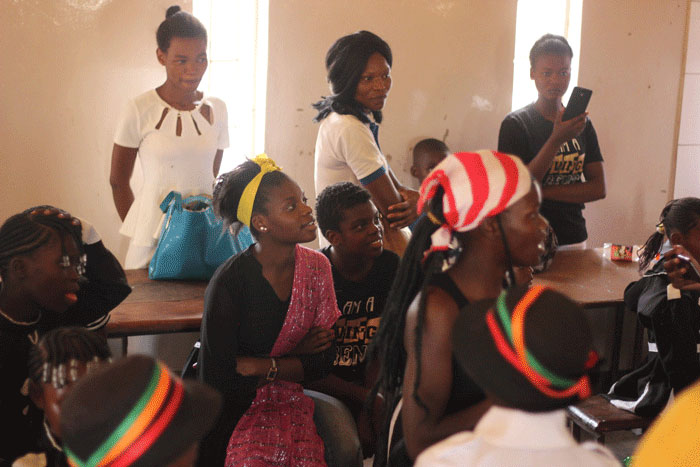 WHO WE ARE
The Sistah Sistah Foundation is a Feminist NGO that seeks to further the rights of women, children and minorities through gender equal programmes created to educate, empower and protect the groups we work with. An equal world is a safer world and through it's programmes, SSF works to not only equip it's groups with knowledge and resources but with a voice that will demand equality and an end to oppression. At the core of all the organisation's work is the declaration that the rights of women are in fact inalienable, integral and indivisible to all human rights and fundamental freedoms
WHY WE EXIST
The SSF exists to demand that women, children and minority groups live free with no fear of violence, harassment or victimisation. The organisation believes that in order to achieve an equal and developed society, we not only have to include women and all marginalised groups in decision making but also holding government and policy makers accountable to ensure all programmes and funds meant for the advancement of women and children are used and implemented effectively. This is done through protests and marches, online activism, petitions and presentations.
 Zambia is a traditional and self proclaimed Christian nation which means it harbours many archaic and harmful beliefs that disadvantage women and children. The patriarchy is so deeply rooted that many people, women included, rarely see the wrong with the culture and systems that largely see women taking second place not only in homes but in workplaces and the community. The organisation exists to unleash a generation of female leaders who will speak for women and a generation of men who will not resort to insults, bullying and violence as a way to subdue and silence women.
ABOUT US
The Sistah Sistah Foundation has operated in Lusaka and Copperbelt provinces of Zambia since 2018. We have worked with over 1000 women and children in various programmes ranging from rape culture classes to literacy programmes. Our vision is to entirely dismantle the patriarchal culture that is rampant in African communities. We aim to achieve our mission in the following goal areas;
Back to School and Literacy Programmes
Survivors' Support Group(s)
Embracing An Inclusive Culture
Gallery